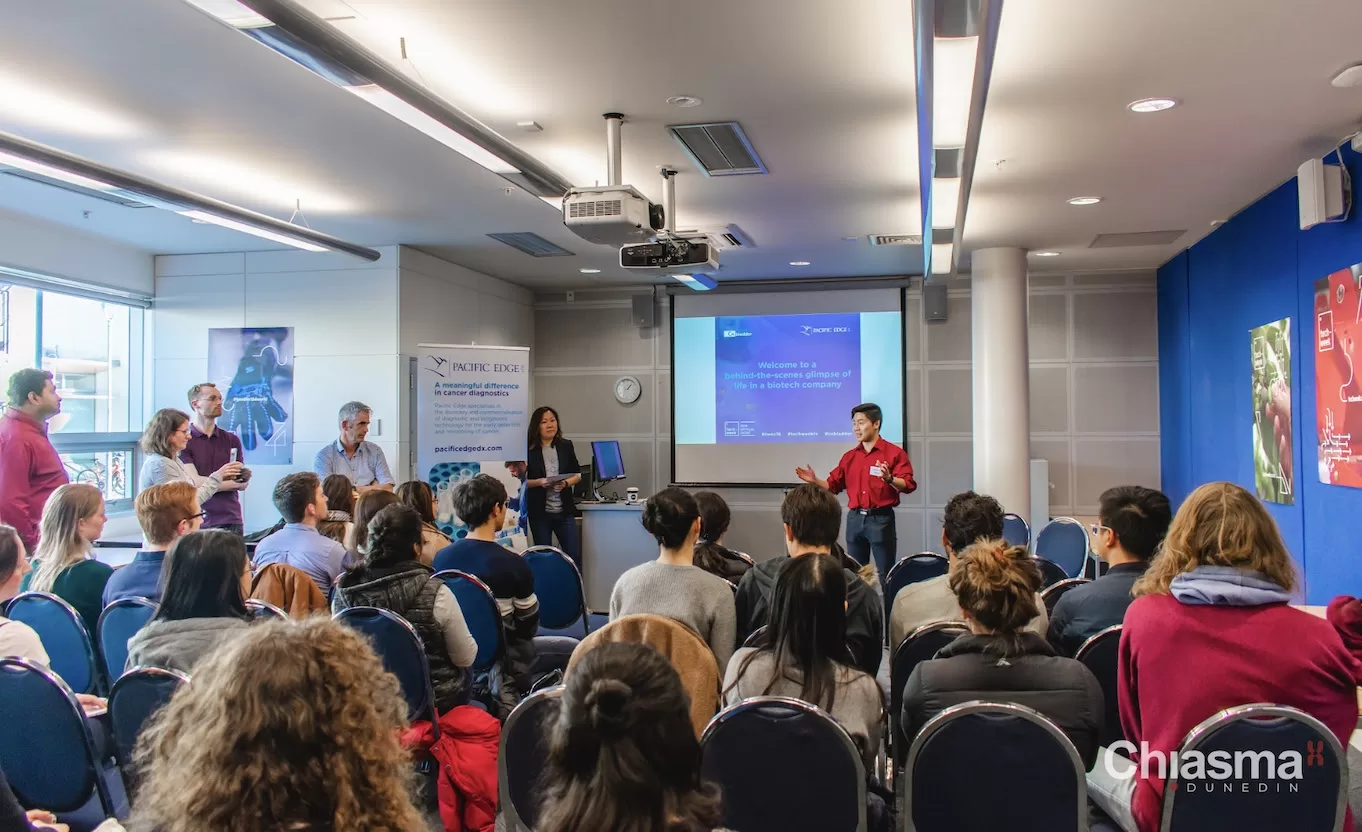 Join the Chiasma Team in 2024
We're looking for talented, and motivated people to join our regional centers teams across the country. Applications close 22 December 2023.
Imagine the opportunity!
Shape the direction of your career, build connections and get exposure to key STEM industry players.
Chiasma provides incredible leadership opportunities for the students across the country. Many companies recognize Chiasma team members as some of the country's most driven and high-achieving talent. Every year, more than 70 people become a part of the Chiasma Team – we grow these students into leaders that solve problems, take initiative, and create value. We've been doing this over 20 years, making a positive impact on Aotearoa, and the world.
No matter your expertise, faculty, or background, we want you to get involved.
Apply today to join our team for 2024 below and become something larger than yourself!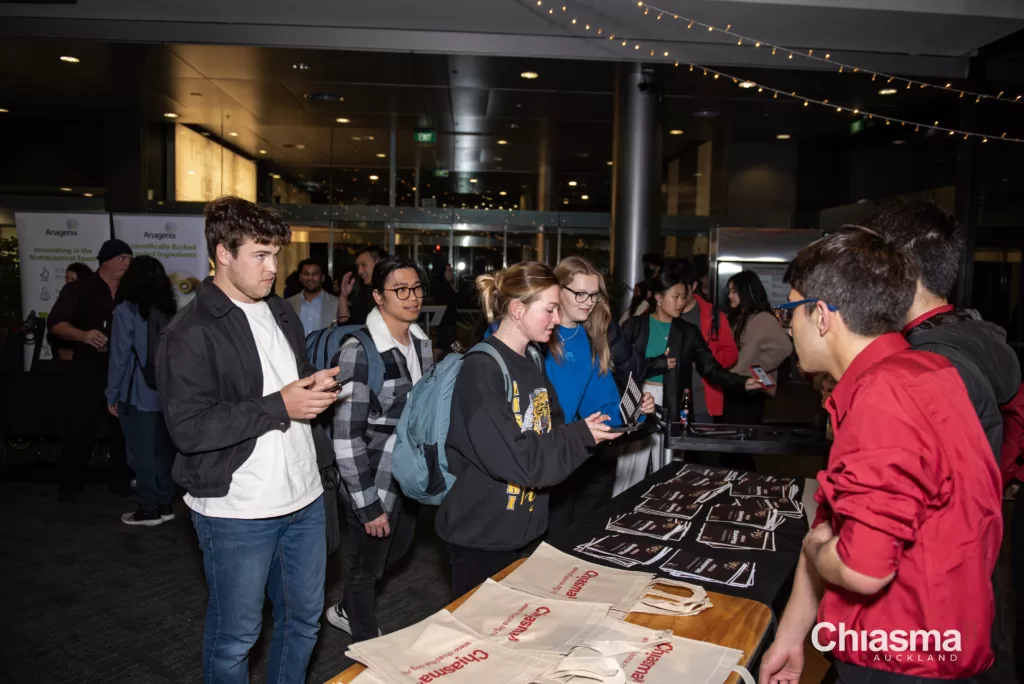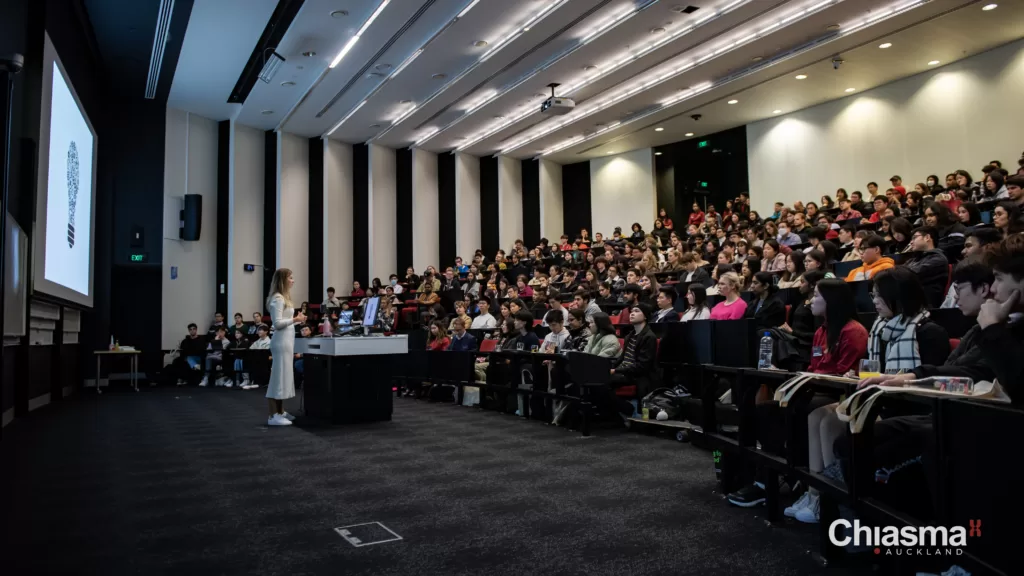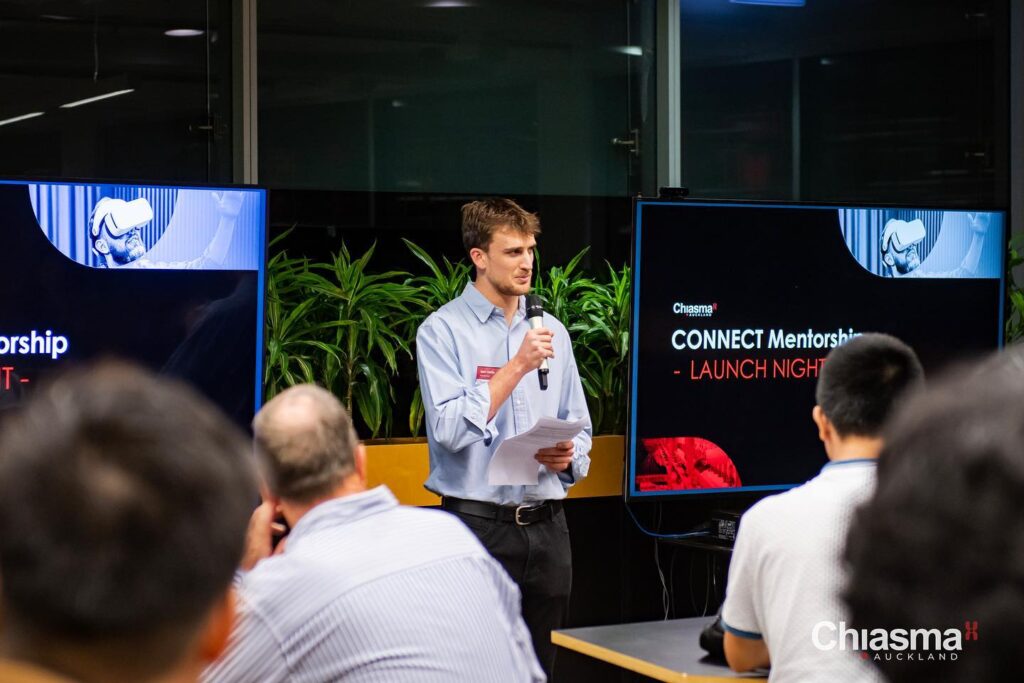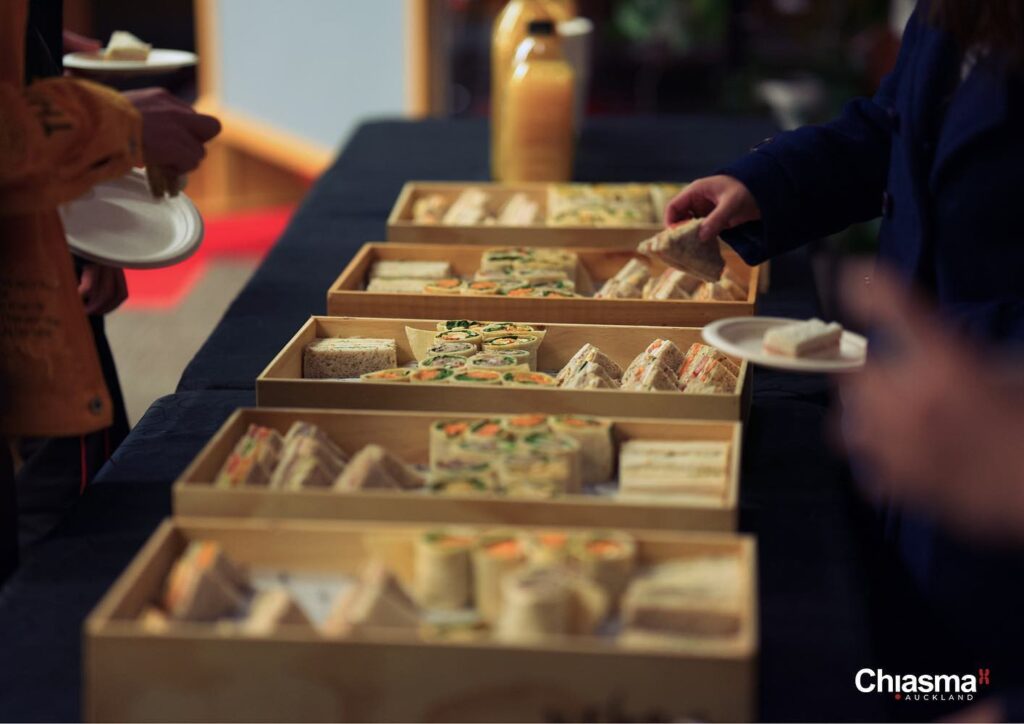 In 2023, our team's got to some amazing stuff… we'd love you on board next year!
> We held launch events in Auckland, Manawatu, Wellington and Dunedin attracting over 400 students and inspiring them with guest speakers, industry insights and Chiasma opportunities!
> Our Connect Mentorship program paired up passionate STEM students with industry mentors, creating valuable connections and enabling their development.
> We held countless workshops across the country including on the Future of AI, Linkedin, and Networking.
> We pulled off Synapse events in Wellington, Auckland and Dunedin with guest speakers including Dr Ashley Bloomfield & Irina Miller. Attendees got the chance to connect with companies such as KPMG, Education Perfect, The Clinician and many more!
> Everyone who came to our events was always well fed. Chiasma always makes sure to have plenty of food to go round!
Find your fit!
Chiasma has regional centers in Auckland, Manawatu, Wellington and Dunedin. Our regional centers are supported by a National Team who administer everything legal, financial, and system-related. Our regional centers are organized into various teams, each focused on a specific component of Chiasma, but united by a common purpose. Each team has a lead (or two), who together with the CEO and COO, are responsible for the delivery of their center's Chiasma programme.
Regional Center Team Structure:
Executive Team – Our CEO and COO lead the regional teams. These are demanding but rewarding roles. You'll need to be driven, organized and great with people! If you're interested in these roles, please reach out via email using the contact information at the bottom of this page.
Events Team – Our events team are tasked with taking a vision and making it happen!
Marketing Team – Our marketing teams make sure students know about Chiasma and attend our events! They manage and create content for all our marketing channels.
Industry Team – Our industry teams are the key connection point between industry partners and Chiasma!
Finance & Sponsorship Team – Our Finance & Sponsorship teams work closely with the Exec and National Team. They set event budgets, identify cost saving opportunities and help bring new sponsors onboard!
National Team Roles:
Our National Team Roles will be advertised shortly – keep an eye on this page for updates!
What's in it for you?
Joining Chiasma will give you a ton of opportunities including:
> Networking: Connect with industry leaders and fellow STEM students to expand your professional circle. You'll also get access to our exclusive Alumni Network!
> Industry Exposure: Get firsthand insight into the NZ STEM industry.
> Professional Growth: Develop essential soft skills, leadership abilities, and enhance your resume to stand out in the job market.
> Lasting Connections: You'll build long-lasting friendships within your team and have the opportunity to connect with past and present Chiasma team members from across the country!
> Teamwork and Leadership Skills: Learn to collaborate effectively, manage projects, and lead teams—skills that serve you well in your STEM journey.
Keen to learn about other people's experiences with Chiasma – check out our Alumni Chat Series: Interview with Greta Holland – Chiasma, Interview with Tina Nie – Chiasma, and Interview with Jessica Chiang – Chiasma.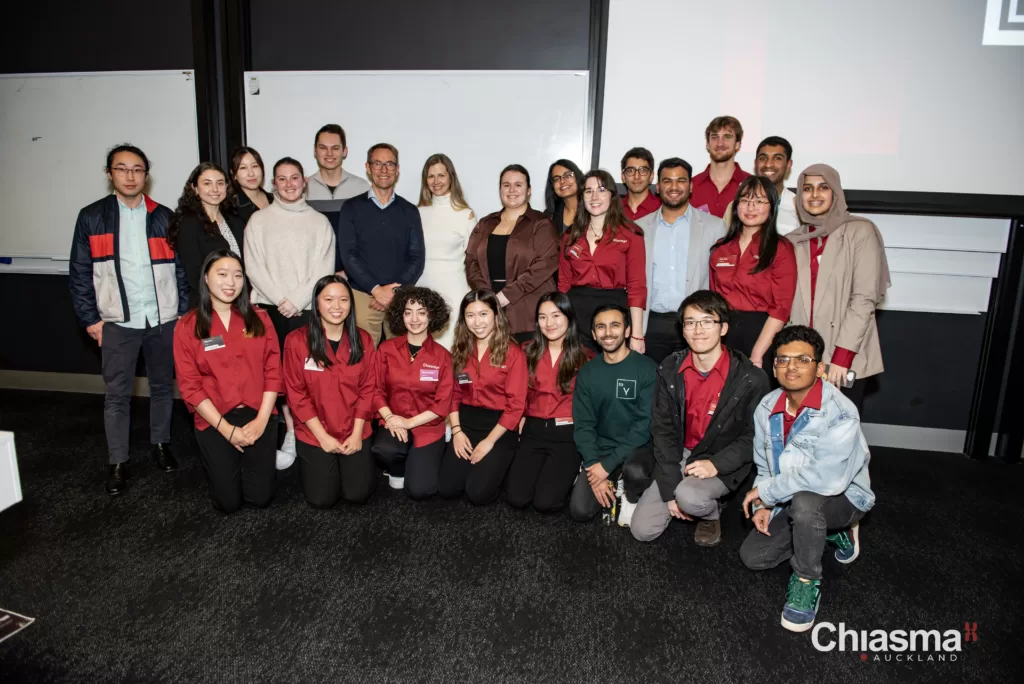 Frequently Asked Questions

Q: What's the time commitment?
A: The time commitment varies between roles and in the lead up to major events. As a general guide team members should be able to commit to 4 hours per week. Those applying for team leader roles should be able to commit to around 6 hours per week. Chiasma roles run from January to December, however the majority of work will be during the university semesters.

Q: Are any of these roles paid?
A: No, all our roles are volunteer positions.

Q: Do I need to be a current student?
A: To be a member of our regional teams you need to be enrolled in tertiary study. You can be an undergraduate, honours student, masters student or PHD candidate! Roles on our National Team are open to anyone from students, graduates to industry professionals who all work together to help deliver an incredible experience for STEM students and support our regional teams.

Q: Are any roles available remotely?
A: For roles on our regional team, you are required to be a student based in the relevant region. Our National Team is based around the country but we encourage you to be located near one of our regional centres to make the most of the Chiasma experience. We are not able to consider individuals not living in New Zealand for any Chiasma roles.

Q: I'd like to contribute but in a different role or team than mentioned, can I still apply?
A: Yes! Let us know in your application how you want to contribute to Chiasma!

Q: Do I need to be based in New Zealand?
A: Yes, we are not able to consider individuals not living in New Zealand for any Chiasma roles.

Q: What support is available to Chiasma team members?
A: From day one you'll have the support of your executive team, team leads, and the Chiasma National Team. We're a super friendly bunch of people keen to see you get the most out of your time with Chiasma!

Q: What's the process for applying and onboarding?
A: The first step is to simply complete the application form below. Once complete, our team will review your application and if you're shortlisted for a role will be in touch to arrange an interview or quick chat. Once interviews are complete our team leads will formalize their teams over the summer break and get in touch before Semester 1 begins.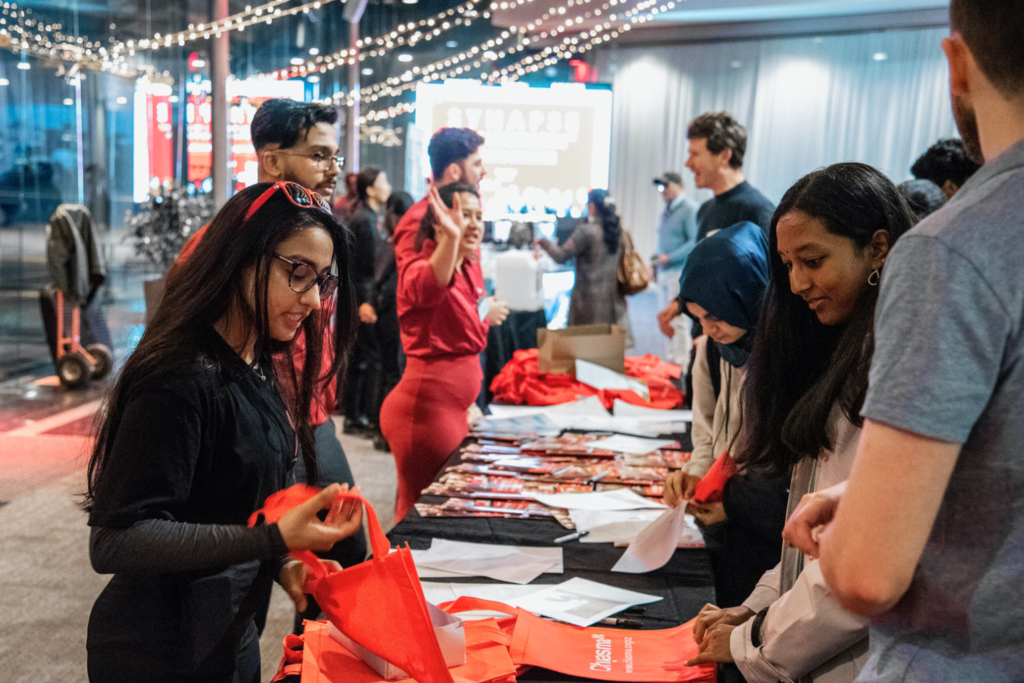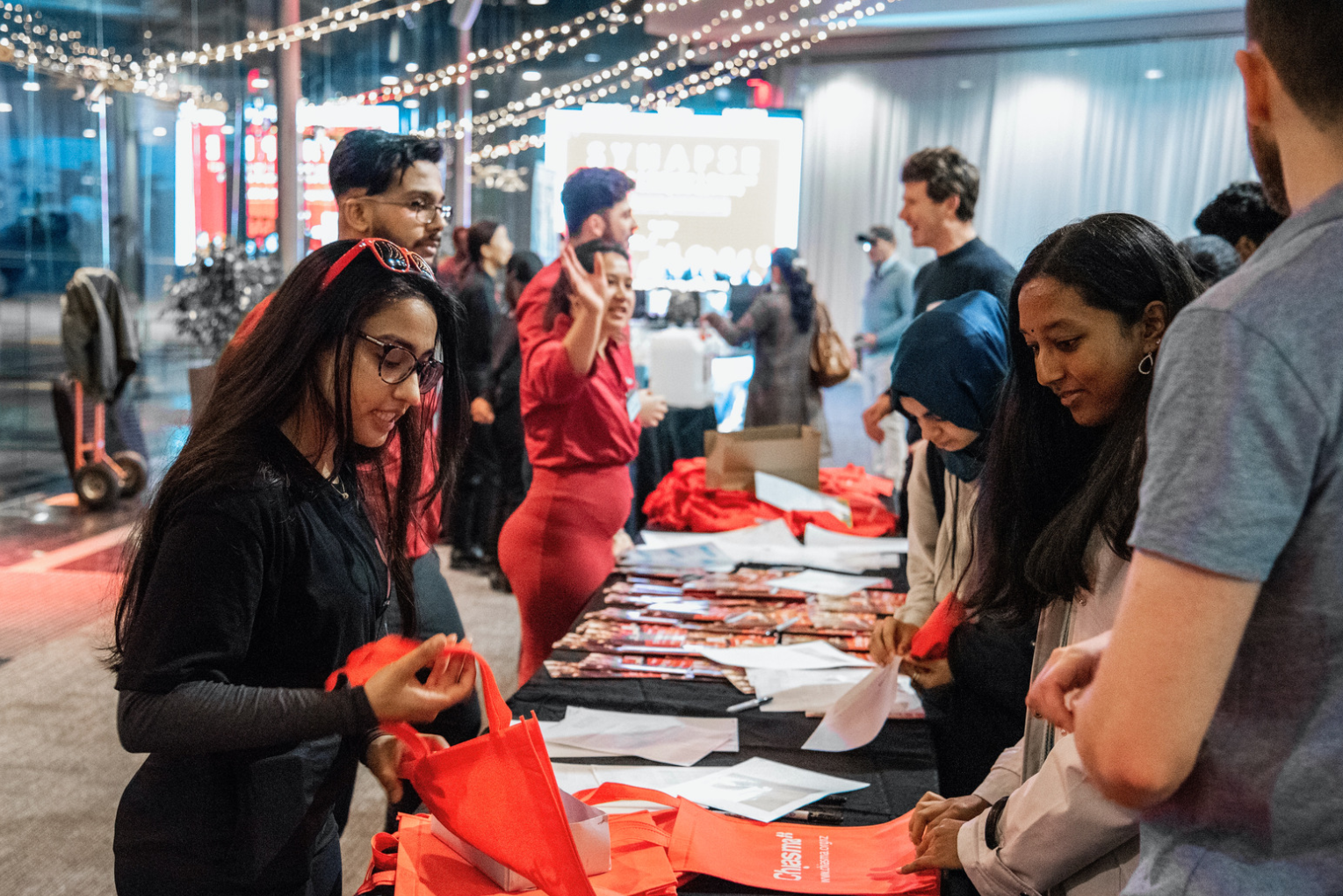 Embrace the opportunity!
Apply online now using the form below. You application will be handled with regard to our Privacy Policy. Applications will be reviewed as received. Applications close 22 December 2023.
Any questions?
Please reach out to the relevant team leader via email below. We can't wait to hear from you!