Dunedin Synapse 2023: Progress – Past, Present, Future
July 26
@
18:30
–
21:00
NZST
🌟 Join Synapse 2023 – Progress: Past, Present, Future! 🌟
Are you a passionate STEM student eager to make a mark in the industry? Look no further! Synapse, Chiasma's premier event, is back with an incredible theme: "Progress: Past, Present, Future." Get ready for a fantastic evening filled with inspiration, networking, and new opportunities.
📅 Date: Wednesday 26 July 2023
⏰ Time: 6:30 PM to approximately 9:00 PM
📍 Location: Otago Business School Union Street East Dunedin, Otago 9016
🥳 Exciting Agenda 🥳
🔹 6:30 PM – 7:00 PM: Arrive and Mingle – chat with like-minded individuals and indulge in nibbles and refreshments as you connect with fellow STEM students and industry members. Start building relationships that could shape your future.
🔹 7:00 PM – 8:00 PM: Keynote Speaker and Panel Discussion – Prepare to be enlightened by influential industry professionals who have been at the forefront of progress. Gain valuable insights, hear remarkable stories, and broaden your perspectives on the ever-evolving STEM landscape.
🔹 8:00 PM onwards: Networking Booth Expo – It's time to put your networking skills into action! Engage in meaningful conversations with industry professionals at our relaxed booth expo. Explore a variety of companies and discover the key players making waves in the industry. And yes, there will be more delicious nibbles and refreshments to keep you fueled throughout the evening.
🥂 Refreshment Details 🥂
We have you covered! Non-alcoholic drinks will be available free of charge, ensuring everyone stays refreshed. For those who prefer an alcoholic beverage, we've got you covered too. Alcoholic drinks will be available for purchase using EFTPOS.
🤝 Expand Your Network 🤝
Synapse 2023 is proudly sponsored by Pacific Edge, and we are thrilled to provide you with an exceptional networking opportunity. Connect with industry leaders, discover potential career paths, and forge valuable connections that can propel your future success.
💡 Synapse Background 💡
Synapse has long been Chiasma's flagship event, and this year promises to be just as awesome. We've curated an evening that combines inspiration, education, and networking, all tailored to empower STEM students like you. See some images from last year's event below.
📢 Stay Updated! 📢
Be the first to know about our incredible lineup of speakers, panelists, and booth holders. Follow us on Facebook and Instagram to receive exciting announcements in the weeks leading up to the event. Don't miss out on this opportunity to engage with the best in the industry!
🌟 Don't miss your chance to be part of Synapse 2023! Reserve your spot now and unlock a world of possibilities. Visit Synapse Dunedin 2023 Tickets, Wed 26/07/2023 at 6:30 PM | Eventbrite to secure your ticket today. We can't wait to see you there! 🌟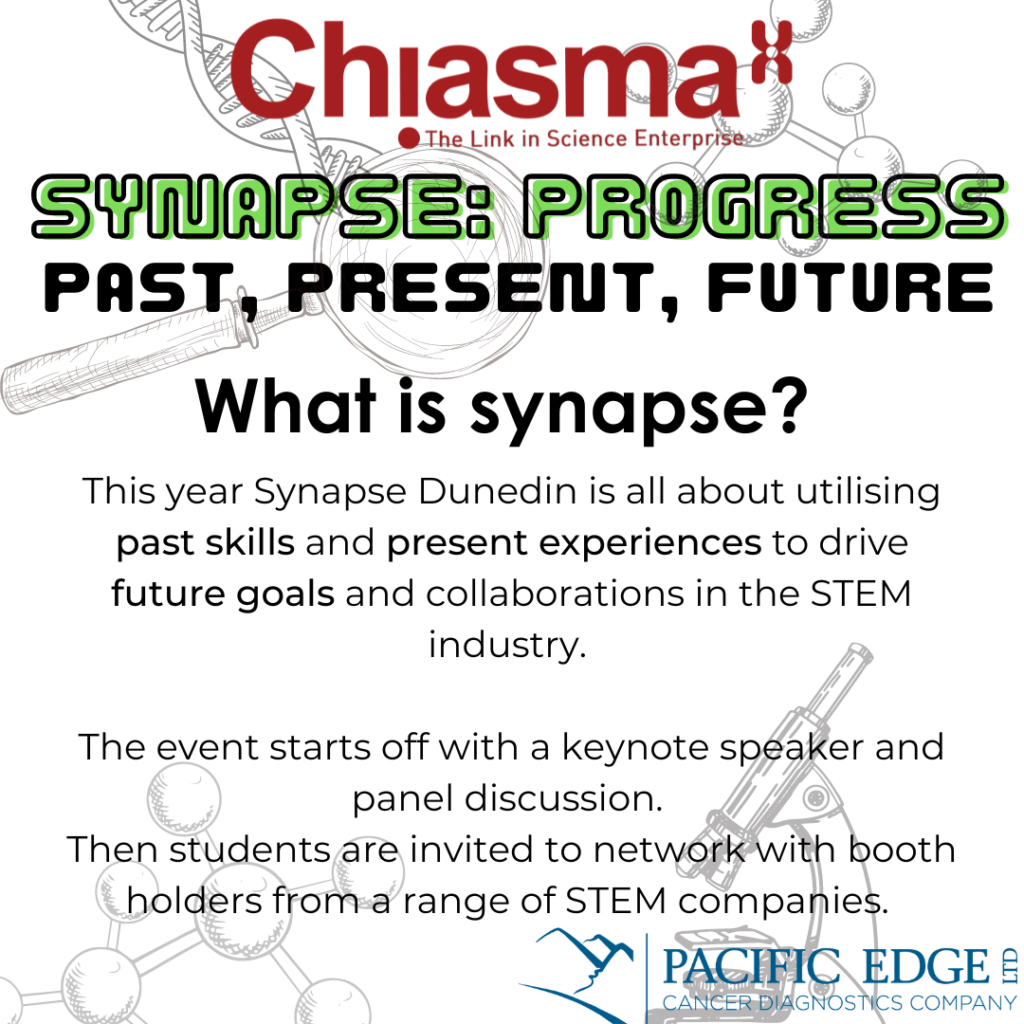 Does your organization want to get involved with Synapse 2023 – contact us today!
Industry Contacts: See the Dunedin Page